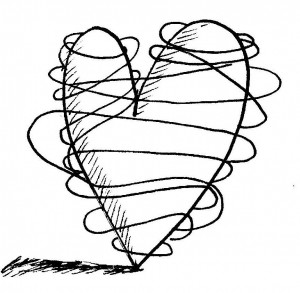 Last Sunday at RiverTown was one of the best Sundays of my life as a Pastor.  It felt like God was literally raining people down into our worship center!  God showed up in an amazing way and brought in so many new single adults, couples and families for the new Velcro Marriage Series.  There were over 290 people in attendance and we counted 14 decisions to follow Jesus.  I want to thank the army of volunteers that made the huge start of this new series possible.  
The message about Soul Velcro from Ephesians 4:23 made such an impact on people last week.  We laughed so hard to see the couples who volunteered to be the Velcro Couple trying to pull themselves apart in the Velcro jacket and dress.  It's true.  The Velcro of the Soul is Forgiveness.  
This week we are going to tackle a subject I call Untangled Love!  I can't wait to show you all what God has been teaching me this week about his pattern for untangling relationship issues.  The heart of the message this week goes like this:  Those who experience deep and satisfying connection are the ones who believe that God has made them worthy of love and belonging!  The passage of scripture God has led me to this week is the story of how Jesus raised his friend Lazarus from the dead in John 11:35-45.  When Jesus Raised Lazarus From The Dead, He Showed Us How To Untangle Any Relationship with the words, "Loose him, and let him Go!"  
Guess how I'm going to illustrate how Jesus can untangle our love, loose us from our past, and set us free.  Hint: It involves one of my friends being wrapped really tight in Velcro, Just Sayin!
Here's a preview of this Sunday by way of video.  This moving story shows how one couple worked our the physical challenges in their relationship and can teach usall about Untangled Love.  I'll be sharing more about this couple on Sunday.  
I would also like to take a minute in this blog and email today to thank my friend and RiverTown youth pastor Dana Phillips for the last two years of faithful service to the Lord and to our Church.  I praise God for his new full-time job at TSYS as I shed a tear for the way we will miss him here.  Matthew Cotner will be taking over the leadership of our Student Ministry as our Interim Youth Pastor.  Matt is a former Army Ranger and has been with us for the past 7 years as a member.  He has served as a high level volunteer in our Children's ministry, Music Ministry, and in the Youth Ministry for the last year and a half under Pastor Dana's leadership. He has also recently joined our Church Leadership team called the Pastor's Council.  Please pray for him and his family.  He is ready for this new challenge and we all believe that God has great things in store for our whole church with the addition of him to our staff.
Pastor David Rathel