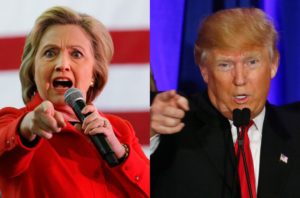 God's word has a lot to say about the horrible effects of immoral and corrupt leaders in a nation. But, what would God have us to do when the only two choices offered may have equally negative consequences? More evidence of open immorality and corrupt political practices will likely await us even after the election. Many of us have found ourselves searching the scriptures for an alternative means of hope. We are plagued with a horrible question. Why? God. Why?
If God, in His sovereignty, has allowed these presidential candidates to be our only two choices, then He MUST have a plan. Can BAD presidential candidates be GOOD for our country? YES! Let's look at why…
#1. TWO NEGATIVE CHOICES FOR PRESIDENT FORCES US TO LOOK FOR POSITIVE RESULTS FROM GOD!
And we know that God causes all things to work together for good to those who love God, to those who are called according to His purpose. Romans 8:28
'For I know the plans that I have for you,' declares the LORD, 'plans for welfare and not for calamity (to prosper you and not to harm you) to give you a future and a hope.' Jeremiah 29:11
My question for all of us is whether we believe these scriptures will still be true after November 8th. Anyone can feel good about a good situation. When all outcomes look bleak, it takes extraordinary faith, hope, and love to feel good about God's plan.
#2. GOD CAN DRAW A STRAIGHT LINE WITH A CROOKED STICK!
As for you, you meant evil against me, but God meant it for good, to bring to pass, as it is this day, to save many people alive. Genesis 50:20
These are the words that Joseph spoke to his brothers after they left him for dead, convinced his family he was dead, and then sold him into slavery. God is always playing the long game. He is stewarding national and global history for His own good purposes.
This is not a vote for fatalism or apathy. It is simply proof that no man or woman in history has ever been too immoral, powerful, or evil to keep themselves from being a tool in God's hand. To be sure, there are evil people in the world. But like Pharoah, Hitler, and Satan himself, they are either used in God's hand or crushed in it.
#3. THE PRESENCE OF SPIRITUAL DARKNESS IN THE WHITE HOUSE REVEALS THE NEED FOR SPIRITUAL LIGHT IN MY HOUSE.
"You are the light of the world. A city set on a hill cannot be hidden. 15Nor do people light a lamp and put it under a basket, but on a stand, and it gives light to all in the house. 16In the same way, let your light shine before others, so that they may see your good works and give glory to your Father who is in heaven. Matthew 5:14-16
The bible has a great deal to say about the important platform policies held by both parties: The decisions of the supreme court justices, racial equality, women's rights, abortion, gender identity, religious liberty in the workplace, honoring marriage vows between men and women, legalizing homosexual marriage, legalized drugs, caring for the poor, exploiting workers, paying living wages, providing for aliens and strangers among us, corrupt and lying leaders, and bullying those who disagree. These are just a few of the multifaceted issues at stake in this election.
It is important to understand that these issues are at stake in the election because they are at stake in the lives of our children and families, our homes, our churches, and our neighborhoods. Every political issue that matters nationally also matters personally and locally. These issues are alive every moment of every day, not just once every four years. We vote for righteousness every day of our lives in every move we make. The leader of the free world was never meant to occupy the job of being the light of the world.  YOU are the light of the world!  YOU!  
#4. IT ONLY TAKES ONE THING TO CHANGE EVERYTHING.
3When we put bits into the mouths of horses to make them obey us, we can turn the whole animal. 4Or take ships as an example. Although they are so large and are driven by strong winds, they are steered by a very small rudder wherever the pilot wants to go. 5Likewise, the tongue is a small part of the body, but it makes great boasts. Consider what a great forest is set on fire by a small spark. James 3:3-5
I don't agree with many of the political points of view contained in the screenplays of Aaron Sorkin. However, the historical depth and intelligence demonstrated in the dialogue of television dramas like The West Wing & The Newsroom are truly spectacular. The lead character, Will McIvoy, In The News Room gave me some tremendous food for thought.
News Anchor Will McIvoy Speaking:
Sometimes is only takes one thing!
On March 2, 1955 A young black woman is arrested for refusing to give up her seat on a bus to a white man in Alabama. Civil rights leaders rushed to her side and she will be a symbol of the struggle against segregation. Her name is Claudette Colvin and she's 15 years old. She's also unmarried and pregnant. The civil rights leaders decided that Colvin is not the best foot forward and stand down. Eight months later, Rosa Parks happens, but during that eight months, a brilliant and charismatic young minister gets the attention of the community and is chosen to lead the bus boycotts. If Claudette Colvin doesn't get pregnant, if they'd gone in the spring instead of eight months later, Martin Luther King is a preacher you've never heard of in Montgomery.
Who is Giuseppe Zangara? I don't really know. He's a guy with a gun who fired five shots on February 15, 1933, killing the Mayor of Chicago. Why? Because Zangara was standing on a wobbly chair. And the Mayor of Chicago wasn't his target. It was the guy the mayor was shaking hands with, the newly elected President Franklin Roosevelt. If Zangara's chair isn't wobbly, Roosevelt never takes office and we swear in his running mate, John Nance Garner, a man whose political ideology was the basis for his opposition to a package of legislation that would be called The New Deal and we don't survive the Great Depression.
A dirty, smelly cave filled with animals in a tiny, insignificant village on the outskirts of Jerusalem was the birthplace of the savior of the world. Sometimes it only takes one tiny thing!
How could the political and religious leaders in charge of the oppressive Roman governmental rule in Jerusalem possibly be used by God for good? They were just as corrupt and immoral as our political leaders today. They crucified thousands of Jews during their military occupation. Jesus Christ was just one of them. His sacrifice gave us life and paid for your sins and mine. Sometimes it only takes one sacrificial and miraculous thing!
#5. CHANGING THE NATION FROM THE INSIDE OUT IS NOW CLEARLY OUR ONLY OPTION.
It has never been the role of politics to have a conscience. Politics is more about power than goodness. It is up to you and me to take up the fight. We can't expect more from our political leaders than we expect from ourselves and the pure community of Christ followers. We don't have the option for spiritual light and truth to trickle down from the White House.
We can pray powerful prayers! We can do powerful works! We can Evangelize, Disciple, and Serve our way into having a community and nation that demonstrates these words from the Lord's Prayer:
"Thy kingdom come. Thy will be done, On earth as it is in heaven." Matthew 6:10 
THE PERMANENT REVOLUTION WE NEED IS A PERMANENT REVIVAL.
IT WORKED FOR JESUS CHRIST AND THE EARLY CHURCH AGAINST A REPRESSIVE AND EVIL ROMAN REGIME.
IT WILL CERTAINLY WORK IN THE LAND OF THE FREE AND THE HOME OF THE BRAVE.