The Day Is Finally Here![space]

Sunday Nov. 3rd The RiverTown "Fall Back" Worship Service And Festival 2013!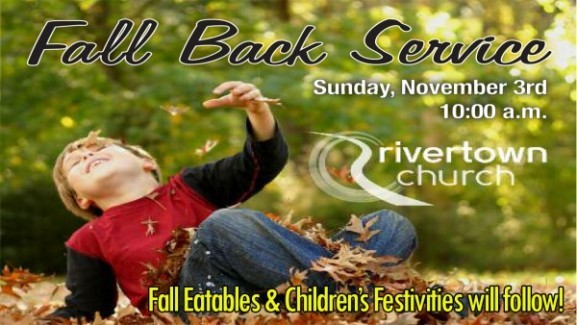 My message this Sunday is about the ultimate Fall Back story! The Bible tells us in the book of 2nd Kings Chapter 5 about a man called Naaman who had to learn to LET GO and FALL BACK into God's love and healing for his body and soul.  
Naaman was a great man, but he had a terrible disease called leprosy. Although he kept his wounds out of sight, they affected every moment of his life and every relationship he tried to have.  He knew he had a problem and he knew God could heal him.  So, what did he have to do?  I can't wait to tell you all about it on Sunday!  
We all, like Naaman, can learn to "Let Go" and "Let God" heal us.  When we do, we'll finally find out that receiving God's healing of our life, soul, and body was worth letting go for. We'll wonder why we didn't let go a long time ago.      
If this sounds like someone you know, then please do everything you can to get them to RiverTown this Sunday. Their life will be forever changed!   
SET YOUR CALENDAR FOR SUNDAY AND SET YOUR CLOCKS BACK SATURDAY NIGHT!
THE RIVERTOWN "FALL BACK" SERVICE AND FESTIVAL IS THIS SUNDAY MORNING AT 10AM!
[space]
Outdoor Worship Service: 10AM on the front lawn.  We'll have a big stage, a concert, and seating for everyone.    
Lunch: $8 Church-Wide BBQ Lunch.
Games, rides, and fun for the whole family including HUGE INFLATABLES and our new PETTING ZOO!     
I have been praying and praying for this day. I have a vision of a huge crowd of people all FALLING BACK in love with God, community with others, and a deeply satisfying life with Christ.   
All for Jesus,
Pastor David Rathel