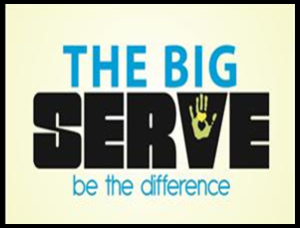 BIG SERVANTS and BIG SERMONS, Week 3, Master Series, 10.27.13
This Question Has Begun To Haunt Me In The Past Year: Who In Our Community Would Notice If RiverTown Church Disappeared?
THE BIG SERVE Week at RiverTown Answers This Question Best!  
[divider]
The Purpose Of THE BIG SERVE Is To Help Me Become A BIG SERVANT in my Community!
The Big Serve Happens Through RiverTown the week of Oct. 28 – Nov. 3
BIG SERVE Opportunities This Week:
1. Laundry Love – Monday Night 7pm at The Laundry Mat near the Circle K Convenience Store By RiverTown 
2. Serve Our Neighbors Yard Clean Up – Wednesday Night meet at RiverTown 6pm – We'll clean up yards to serve people near our Campus
3. Halloween Yard Parties – Wednesday Night 7pm in the Twin Chapel and Castlewood Subdivisions
4. Invite Someone And Serve At "Fall Back Outdoor Worship Service" and FALL FESTIVAL! – Next Sunday Morning Nov. 3rd, 10am at RiverTown.
Find Out More About NEXT SUNDAY CLICK HERE.
BELOW IS A SNAPSHOT OF MY MESSAGE TOMORROW MORNING AT RIVERTOWN
"BIG SERVANTS  and BIG SERMONS!"
A Big Servant Is One Who Stoops To The Lowest Place Of Service On Purpose.
And He began speaking a parable to the invited guests when He noticed how they had been picking out the places of honor at the table, saying to them, 8 "When you are invited by someone to a wedding feast, do not take the place of honor, for someone more distinguished than you may have been invited by him, 9 and he who invited you both will come and say to you, 'Give your place to this man,' and then in disgrace you proceed to occupy the last place. 10 But when you are invited, go and recline at the last place, so that when the one who has invited you comes, he may say to you, 'Friend, move up higher'; then you will have honor in the sight of all who are at the table with you. 11 For everyone who exalts himself will be humbled, and he who humbles himself will be exalted." Luke 14:7-11
THE HEART AND HANDS OF A BIG SERVANT?
1. HEART: Choose The Lowest Place And Let God Be The One To Lift You Higher.
2. HAND: Find A Need And Fill It!  Find A Hurt And Heal It!  Find A Chasm And Bridge It.
Sometimes You Have To Do The Deeds Of Christ In Order To Hear The Words Of Christ.
People May Forget Everything You Say, But They Will Never Forget How You Made Them Feel.
 This Poem By Edgar Guest Really Explains How God's People Can Be Living Walking Sermons Every Day!
SERMONS WE SEE
I'd rather see a sermon than hear one any day;
I'd rather one should walk with me than merely tell the way.
The eye's a better pupil and more willing than the ear,
Fine counsel is confusing, but example's always clear;
And the best of all the preachers are the men who live their creeds,
For to see good put in action is what everybody needs.
I soon can learn to do it if you'll let me see it done;
I can watch your hands in action, but your tongue too fast may run.
And the lecture you deliver may be very wise and true,
But I'd rather get my lessons by observing what you do;
For I might misunderstand you and the high advise you give,
But there's no misunderstanding how you act and how you live.
When I see a deed of kindness, I am eager to be kind.
When a weaker brother stumbles and a strong man stays behind
Just to see if he can help him, then the wish grows strong in me
To become as big and thoughtful as I know that friend to be.
And all travelers can witness that the best of guides today
Is not the one who tells them, but the one who shows the way.
One good man teaches many, men believe what they behold;
One deed of kindness noticed is worth forty that are told.
Who stands with men of honor learns to hold his honor dear,
For right living speaks a language which to every one is clear.
Though an able speaker charms me with his eloquence, I say,
I'd rather see a sermon than to hear one, any day.[divider]