Did you miss last week's message? No big deal, we have all of our sermons from Rivertown collected right here, whether you want to hear last week's message or browse sermons from several months ago!
David Rathel - April 21, 2013
The Journey from Slavery to Freedom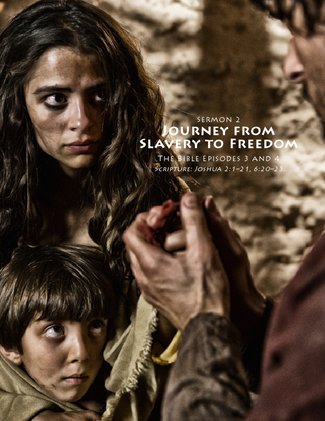 The maker of a new documentary film, Honey Child (www.honeychildfilm.com), tells the story of a daughter discovering her mother's secret past. The secret she discovers is that her mother was a victim of sex trafficking as a child prostitute. The mother and daughter journey together across America as she recounts her struggle for survival in the 1970′s sex trade. Mrs. Leanna Hawkins is the filmmaker. She is a newlywed army officer's wife stationed here at Ft. Benning with her husband Andrew. She also plays first base on RiverTown's softball team. Andrew is awesome in the outfield. I've gotten to know this precious couple as well as Leanna's parents. I'm so happy to have them as a part of our Church family. They are the real thing! They are passionately in love with Jesus. They have taken their family's painful past and are using it openly to minister to broken souls and to expose the corruption in our country that allows human sex trafficking. One of the most revealing stories Leanna tells is of the moment God gave her to question a pimp. She asked him, "Where do you get your girls?" She wanted to know where a pimp would find girls who were vulnerable to being trapped like this. "At the mall," he said. "I find a pretty girl and walk up to her and say 'You have really beautiful eyes!' If the girl looks me back in the eyes and says, 'Thank you! I appreciate that.', then I know that's not my girl. But if she turns away, looks down, and doesn't receive my compliment, then I know that I've got my girl!" Sunday, March 21st, in my message series called THE BIBLE we will discover the powerful story of Rahab the prostitute in the book of Joshua as well as hear Leanna's testimony about her healing journey with her mother across America to make their film. Here are some of the lessons they've learned: Sexually Broken People Have Great Value To God! There Is No Limitation To Forgiveness. We All Need A Safe Place To Deal With Our Secret Past. Whatever You Submit To Becomes Your New Identity. Hurt People Hurt People And Healed People Heal People. God's people had been delivered from slavery in Egypt, led through the Red Sea and wandered in the Sinai wilderness for forty years. There, they had received God's Law and become as a nation, but they were still nomads. Their deliverance was not yet complete. Deliverance was happening again for Rahab and her family, as recorded in the first chapters of the Bible book of Joshua. And that story, it turns out, is not just Rahab's story; it is your story and mine, too! Joshua 2:1 - 21; 6:20 - 25

From Series: The Bible TV Series | More Messages from David Rathel | Download Audio
More Messages Associated With "Relationships"...
| | | | | | |
| --- | --- | --- | --- | --- | --- |
| Who's At The Table? | | November 8, 2015 | | Watch | Listen |
| The Taste of Thanksgiving | | November 22, 2015 | | Watch | Listen |
| F.I.R.E. Up Your Love! | | February 14, 2016 | | Watch | Listen |
| A Church That Rocks | | July 31, 2016 | | Watch | Listen |
| The Horizontal Beam of The Cross | | August 21, 2016 | | Watch | Listen |
| Man Up! Part 2 | | October 16, 2016 | | Watch | Listen |
| First You Need a Hot Man! | | February 5, 2017 | | Watch | Listen |
| How to Heat the Heart of a Holy Hottie! | | February 12, 2017 | | Watch | Listen |
| You Had Me At Hello! | David Rathel | February 19, 2017 | | Watch | Listen |
| The VOW of PRIORITY | David Rathel | February 4, 2018 | | Watch | Listen |
Powered by Series Engine