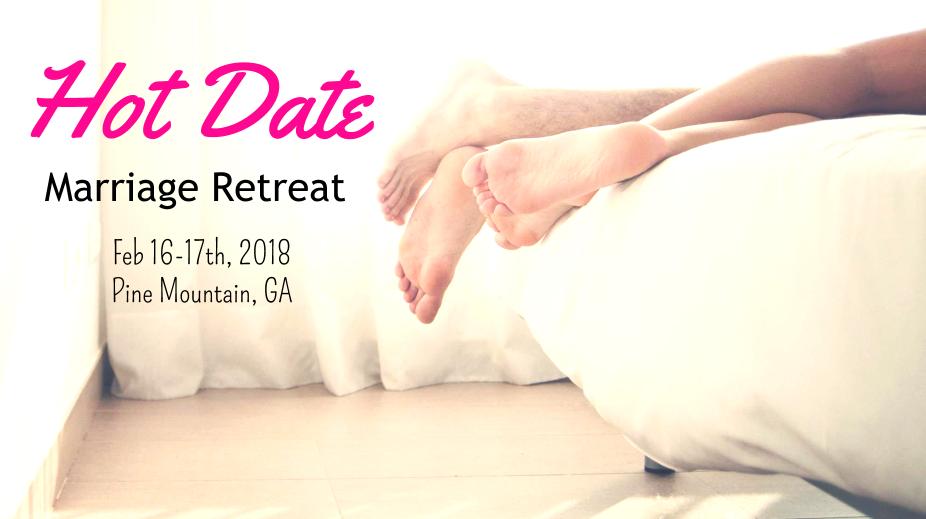 Why go on a Hot Date Marriage Retreat? God meant for married couples to have hot dates!  Reignite your passion for your spouse God's way, with a weekend away for the two of you!
Location:
Mountain Top Lodge, Pine Mountain, GA
Lodging will be assigned on a first come-first serve basis. Premium rooms include a King bed, Fireplace, and Jacuzzi tub. Minimum amenities include Queen bed and private bath. Meals will take place in the lodge meeting room. 
Cost:
The cost includes lodging, meals, and group activities.
Excursion costs are listed below.
Your $25 Deposit saves your space,  locks in your room priority, and your price category.  The deposit is non-refundable, but will be subtracted from the balance. 
Price Categories:
$250 General Registration Jan 2nd- Feb 1st
$275 Last Minute Addition Feb 2nd- 17th
Schedule:
Friday
Check-In is available between 3:00 – 6:30 PM
7:00 PM Dinner and Welcome
8:00 PM Firepit, S'mores, Worship
9:00 PM "For Your Eyes Only" Couples assignment
Saturday
8:00 AM Breakfast and Devotional
10:00 AM "Hot Monogamy" Message
11:00 AM Check out of rooms
11:15 AM Lunch at the Lodge
1:00 PM Excursion (Choose below)
5:30 PM Candlelight Dinner and  Carriage Rides
Sunday
11:00 AM Closing Ceremony in the Worship Service
Choose one Excursion:
Horseback Riding $80 per couple
Wild Animal Safari $75 per couple
Hiking Pine Mountain Trail $5 per couple
You can get in on today's pricing category by paying your deposit right away. This is the best way to lock-in your room category, pricing category, and excursion choice.
Click Here to Pay your Deposit! (Select Marriage ministry.)