Your children are very important to us at Rivertown, so we make sure to provide the best we can for them on Sunday mornings. Between Tyketown, Kid Connection, and Ignite Student Ministries, your kids will grow up in a community that feeds their spiritual growth.
In Tyketown, our goal is to partner with you to train your kids spiritually.
From the earliest church experience, we want infants, toddlers, and other preschoolers to associate church, God, and Jesus with happy feelings. We know that it is never easy to leave your child in the care of another. Our dedicated volunteer staff considers it a great honor to provide your child with a safe, fun learning environment at church, and to provide you with resources to train your child spiritually. Our Tyketown teachers and leaders eagerly look forward to the time they get to share God's love with each child. Our lesson strategy is called My Bible App for Kids Curriculum. The Curriculum teaches your children about Jesus and allows them to reinforce what they learn in their Sunday school at home through the Bible app. For more information on the bible app, click here.
Through interactive songs, games, and stories your child will experience the excitement of learning about God at church. Every month, we offer a resource called "Blinky's Family Challenge" for parents and preschoolers. It includes activities to do with your child. Our goal is to help you weave faith into your child's every day life.
In Kid Connection, our goal is to partner with you to train your kids spiritually.
"Connecting Kids to Christ"
Our dedicated volunteer staff considers it a great honor to come alongside you and minister to your family. Our lesson strategy is called Konnect, which was created by the LifeKids Team. It is built around Bible- based video series for elementary students.
We want kids to internalize the values the Bible presents and put them into action in their daily lives. We believe that parents are the best ones to teach their kids about Christ. Please take advantage of this valuable tool. For those kids who desire to make the commitment to become followers of Christ, we make it a point to counsel with the child and parents outside of a group setting. We also offer a New Christian's Class for kids to help solidify their understanding. Other opportunities that kids and parents can enjoy include Vacation Bible School and Kids' Camp.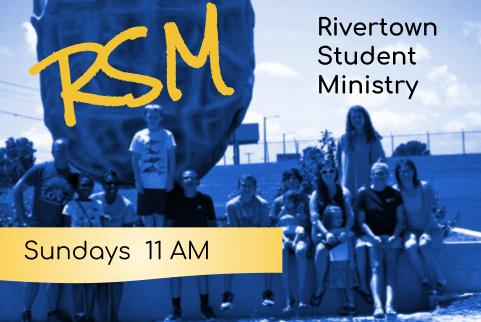 Why We Are Here?
Rivertown Student Ministry is here to help students grasp what Jesus wants in our lives. Jesus wants us to be like him.
According to popular belief, being a teenager is a fabulous life. Wild parties, flashy clothes, shiny gear—the whole decade is basically a vacation from responsibility. But God has something more in mind. Our youth is a launch pad into His mission for our life. When we reset our expectations for our time as teenagers, we will accomplish things for God that are far more fabulous than we could imagine.
Who Do We Want to Immerse?
High School students grades 9-12 and Middle School students grades 6-8.
When Do We Meet?
We meet every Sunday morning after the 11 am worship service.