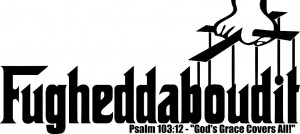 "Fu-ge-da-boud-it" Defined: Forget about it – the issue is not worth the time, energy, mental effort, or emotional resources. As distant as the east is from the west, that is how far he has removed our sins from us. Psalms 103:12 [divider]
[slider effect="slide"] [item]
[buzzsprout episode='90946′ player='true']

God's GRACE "The Offer You Can't Refuse" – May 5th
Living In God's Grace Means That I Can Relax And Receive Instead Of Strive And Achieve.
For by grace you have been saved through faith; and that not of yourselves, it is the gift of God; not as a result of works, so that no one may boast. Ephesians 2:8 – 9 (NASB)
Therefore, having been justified by faith, we have peace with God through our Lord Jesus Christ, through whom also we have obtained our introduction by faith into this grace in which we stand; and we exult in hope of the glory of God. Romans 5:1-2, (NASB)
Download Message: NOTES & SLIDES, WATCH & LISTEN
[/item]
[item]
[buzzsprout episode='92154′ player='true']

"Don't Go Against The Family" – May 12th MOTHERS DAY!
Jesus Lived To Pour His FATHER's Grace into His Mother's Heart. Grace Is The Gift Of God's Unmerited Favor. It Is The Much Deserved Applause Of Heaven Toward Jesus Being Given Undeservedly To You! Grace Means You Don't Have To Get It Right For God To Make It Right. Jesus Always Left Room For His FATHER's Grace To Fill His Mother's Life. John 2:1-10 (NASB) On the third day there was a wedding in Cana of Galilee, and the mother of Jesus was there; 2 and both Jesus and His disciples were invited to the wedding. 3 When the wine ran out, the mother of Jesus said to Him, "They have no wine." 4 And Jesus said to her, "Woman, what does that have to do with us? My hour has not yet come." 5 His mother *said to the servants, "Whatever He says to you, do it." 6 Now there were six stone waterpots set there for the Jewish custom of purification, containing twenty or thirty gallons each. 7 Jesus said to them, "Fill the waterpots with water." So they filled them up to the brim. 8 And He said to them, "Draw some out now and take it to the headwaiter." So they took it to him. 9 When the headwaiter tasted the water which had become wine, and did not know where it came from (but the servants who had drawn the water knew), the headwaiter called the bridegroom,10 and *said to him, "Every man serves the good wine first, and when the people have drunk freely, then he serves the poorer wine; but you have kept the good wine until now." When It Comes To Family, God's Grace Makes Up The Difference Between What I Got And What I Needed. God's Grace Fills My Family When I Trust That God's Grace Is Enough For My Family. Ask Yourself This Question: What Is Grace In This Situation?
Download Message: WATCH & LISTEN
[/item]
[item]
[buzzsprout episode='93330′ player='true']

"Everyday Grace" – May 19, Dana Phillips
The Same Grace Of Jesus That Saved Me From My Sins Is Available To Help Me Live For Him Every Day.
But grow in the grace and knowledge of our Lord and Savior Jesus Christ. 2 Peter 3:18 (NIV)
Growing In Grace Every Day Is Called Sanctification.
It Is The Work Of The Holy Spirit Separating Me From Myself And Connecting Me To God.
This is What Sanctification Feels Like.
Romans 7:14-25 (NIV)
We know that the law is spiritual; but I am unspiritual, sold as a slave to sin. 15 I do not understand what I do. For what I want to do I do not do, but what I hate I do. 16 And if I do what I do not want to do, I agree that the law is good. 17 As it is, it is no longer I myself who do it, but it is sin living in me. 18 For I know that good itself does not dwell in me, that is, in my sinful nature. For I have the desire to do what is good, but I cannot carry it out. 19 For I do not do the good I want to do, but the evil I do not want to do—this I keep on doing. 20 Now if I do what I do not want to do, it is no longer I who do it, but it is sin living in me that does it.
21 So I find this law at work: Although I want to do good, evil is right there with me. 22 For in my inner being I delight in God's law; 23 but I see another law at work in me, waging war against the law of my mind and making me a prisoner of the law of sin at work within me. 24 What a wretched man I am! Who will rescue me from this body that is subject to death? 25 Thanks be to God, who delivers me through Jesus Christ our Lord!
How Do I Cooperate With The Holy Spirit In The Sanctification of My Life?
Philippians 2:12-13 Therefore, my beloved, as you have always obeyed, not as in my presence only, but now much more in my absence, work out your own salvation with fear and trembling; for it is God who works in you both to will and to do for His good pleasure.
You're Never Fully Sanctified Until You Are Finally Glorified.
Other Biblical References:
1 Timothy 4:7, Galations 5:16, Romans 6:1, Romans 12:1
For Further Study: http://www.openbible.info/topics/sanctification
Download Message: WATCH & LISTEN
[/item]
[item]
[buzzsprout episode='94795′ player='true']

"Forever Changed" – May 26, Dana Phillips
When You Finally See Jesus, Everything Will Finally Make Sense. You Will Be Like Him Because You Will See Him As He Is.
1 John 3:2-3 Dear friends, now we are children of God, and what we will be has not yet been made known. But we know that when Christ appears, we shall be like him, for we shall see him as he is. 3 All who have this hope in him purify themselves, just as he is pure. (NIV)
Your Final Transformation Into The Likeness of Jesus Christ In Heaven Is Called Glorification.
The Cause Of All Death Is Sin. The Reason You Never Die In Heaven Is Because You Never Sin In Heaven.
The Reason You Never Sin In Heaven Is Because You Receive A Glorified Body That Is Like The Body Of Jesus.
Then, Your Transformation Into The Likeness Of Jesus Christ Will Be Complete!
Philippians 3: 19-21 But our citizenship is in heaven. And we eagerly await a Savior from there, the Lord Jesus Christ, 21 who, by the power that enables him to bring everything under his control, will transform our lowly bodies so that they will be like his glorious body. (NIV)
What A Glorified Body Can Do:
1. It Can Be SEEN. Luke 24:15
2. It Can APPEAR And DISAPPEAR. Luke 24:31
3. It Can SPEAK. Luke 24:38
4. It Is RECOGNIZABLE. Luke 24:39
5. It Can Be TOUCHED. Luke 24:39
6. It Can EAT. Luke 24:41
7. It can Move VERTICALLY. Acts 1:9
Acts 1:7-11 (NASB)
He said to them, "It is not for you to know times or epochs which the Father has fixed by His own authority; 8 but you will receive power when the Holy Spirit has come upon you; and you shall be My witnesses both in Jerusalem, and in all Judea and Samaria, and even to the remotest part of the earth." 9 And after He had said these things, He was lifted up while they were looking on, and a cloud received Him out of their sight. 10 And as they were gazing intently into the sky while He was going, behold, two men in white clothing stood beside them. 11 They also said, "Men of Galilee, why do you stand looking into the sky? This Jesus, who has been taken up from you into heaven, will come in just the same way as you have watched Him go into heaven."
For Futher Study:
1 Corinthians 15 (NIV)
42 So will it be with the resurrection of the dead. The body that is sown is perishable, it is raised imperishable; 43 it is sown in dishonor, it is raised in glory; it is sown in weakness, it is raised in power; 44 it is sown a natural body, it is raised a spiritual body.
If there is a natural body, there is also a spiritual body. 45 So it is written: "The first man Adam became a living being" ; the last Adam, a life-giving spirit. 46 The spiritual did not come first, but the natural, and after that the spiritual. 47 The first man was of the dust of the earth; the second man is of heaven. 48 As was the earthly man, so are those who are of the earth; and as is the heavenly man, so also are those who are of heaven. 49 And just as we have borne the image of the earthly man, so shall we bear the image of the heavenly man.
50 I declare to you, brothers and sisters, that flesh and blood cannot inherit the kingdom of God, nor does the perishable inherit the imperishable. 51 Listen, I tell you a mystery: We will not all sleep, but we will all be changed— 52 in a flash, in the twinkling of an eye, at the last trumpet. For the trumpet will sound, the dead will be raised imperishable, and we will be changed. 53 For the perishable must clothe itself with the imperishable, and the mortal with immortality. 54 When the perishable has been clothed with the imperishable, and the mortal with immortality, then the saying that is written will come true: "Death has been swallowed up in victory."

55"Where, O death, is your victory?Where, O death, is your sting?"

56 The sting of death is sin, and the power of sin is the law. 57 But thanks be to God! He gives us the victory through our Lord Jesus Christ.
58 Therefore, my dear brothers and sisters, stand firm. Let nothing move you. Always give yourselves fully to the work of the Lord, because you know that your labor in the Lord is not in vain.
Download Message: WATCH & LISTEN
Possible Other Titles: Body By Grace, The God Bod Of Grace! The Glorified God Bod! The Body Of Grace! Forever Changed!
[/item][/slider]