Velcro Marriage Relationship Series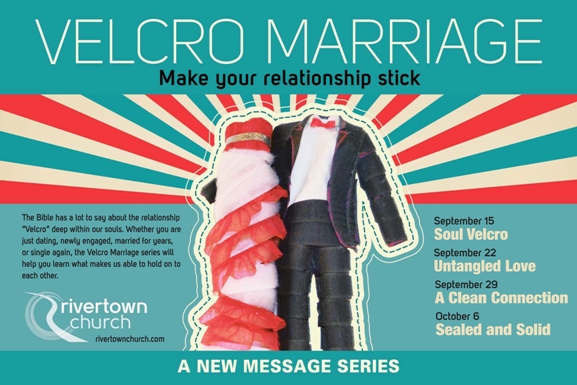 Have you ever wondered why some marriages stick together and others don't? The Bible actually has a lot to say about the relationship "velcro" deep within our souls. If your goal is to stick together forever, then learning what makes us able to hold on to each other is really important. There are a lot of things that can get stuck to us over time and weaken our ability to bond. Whether you are just dating, newly engaged, married for years, or single again, the Velcro Marriage series will help you find out how to make your relationship stick! [divider]
[slider effect="slide"][item]
[buzzsprout episode='115046′ player='true']
Soul Velcro

–

September 15
The Velcro of the Soul is forgiveness.
Be kind to one another, tenderhearted, forgiving one another, as God in Christ forgave you. Ephesians 4:23
Unforgiveness against anyone harms my relationship against everyone. Unforgiveness becomes anger. Anger moves to bitterness. Bitterness becomes depression and then you feel isolated and cut off from everyone
[/item]
[item]
[buzzsprout episode='116512′ player='true']
Untangled Love

– September 22
When Jesus Raised Lazarus From The Dead, He Showed Us How To Be Set Free And Be Restored To A Loving Relationship. John 11:35-45
Those who experience deep and satisfying connection are the ones who believe that God has made them worthy of love and belonging.

[/item]
[item]
[buzzsprout episode='118506′ player='true']
A Clean Connection

–

September 29
The Goal Of A Relationship Is To Create A Clean Connection. A Clean Connection Is A Connection Without Shame.
Genesis 2:24-25 (NASB)
For this reason a man shall leave his father and his mother, and be joined to his wife; and they shall become one flesh. 25 And the man and his wife were both naked and were not ashamed.
[/item]
[item]
[buzzsprout episode='119891′ player='true']
Sealed and Solid

–

October 6
THREE ELEMENTS OF A COVENANT MARRIAGE
And now these three remain: faith, hope, and love. But the greatest of these is love. 1 Corinthians 13:13 (NIV)
FAITH: I Will Believe In You.
HOPE: I Will Wait For You.
LOVE: I Will Risk Everything On You.
2 People + 1 Covenant = 1 Sealed And Solid Love!
"Place me like a seal over your heart…for love is as strong as death," ~ Song of Solomon 8:6 (NLT)
[/item] [/slider]